Introducing the Quilo 3-in-1 Tower Fan – Humidifier, and Evaporative Air Cooler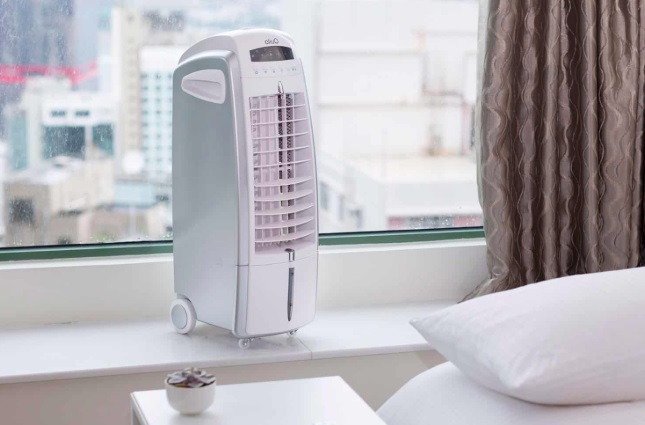 The fan – it keeps us cool (or at least it tries to) during the summer. Winter rolls in, the fan gets stored away, and the heater comes out. As a result of running the heater in the cold season, the air in the house becomes dry. Then the humidifier needs to have a run.
One Low Energy Unit, three appliances
The above cycle repeats for most people year in year out. It seems almost foolish that we don't have humidifiers and fans in one unit. If we did, it would be available for use all year round. Well today that magic does exist, as we introduce the Quilo 3 in 1 Tower Fan.
Here we have three appliances packed into one compact, energy saving air cooling system, and it's exactly what many of us have been waiting for. The Quilo will humidify winter dryness, and cool summer heat, all in a portable, quiet, and energy saving unit that's able to cool up to 160 square feet. The only thing it lacks is the ability to purify the air.
If that's all it could do, it would already be amazing, but it comes packed with an array of other fantastic features including a universal voltage adapter, a low water alarm, ice compartment, LED control panel, water tank filter, advanced irrigation system, as well as a comfort light.
Every Season Covered with the Quilo
As it uses no refrigerant gases for cooling, the Quilo is a healthier way to stay cool. Rather, it uses a moist honeycomb cooling pad through which it channels air.
With the water tray filled, warm air that enters the Quilo turns cool with a hint of moistness, the fresh breeze fanned into the room, somewhat analogous to an air conditioner. If you're looking for something cooler, pack the ice ray with ice, and the water flowing through the system will be extra chilly.
Amongst the many features you'll find a turbo mode which maximizes the fanning power, a sleep mode which gently breezes (or humidifies) with indiscernible noise, optional oscillation, as well as a programmable timer allowing the unit to switch off in 30 minute increments, up to 7.5 hours.
The Quilo was a 2018 finalist for product design excellence at the Global Innovation Awards, and it's quite easy to see why. Packed with the features of a more expensive, larger, more polluting heating/cooling products, but without the stuff that's bad for the environment, and bad for us.
Having solved your indoor cooling problems, extend the cooling & summer entertainment to your patio/garage/barbecue area with the Honeywall Outdoor Portable Evaporative Cooler. Fantastic for both dry and hot climates where humidity is <60%. It's perfectly suited for long spaces, providing long airflow. Some of its features are an Automatic-Off timer, a Low Water Alarm, and a remote control for easy control & maintenance. To perfectly round out a summer backyard barbecue, it comes with a small compartment, and a beverage holder.